Apartment 1 Bedroom: 50 m2
Apartment 2 Bedroom: 60 m2 – 65 m2
Apartment 3 Bedroom: 79 m2 – 83 m2
OVERVIEW
Harmony Tower is the complex of hotels, apartments and commercial center located at Lot A5, Pham Van Dong Street, Son Tra District, Da Nang City. It is an ideal location with the clean environment by the sea there is also located the largest hotel and restaurant gathering in the coastal city of Danang.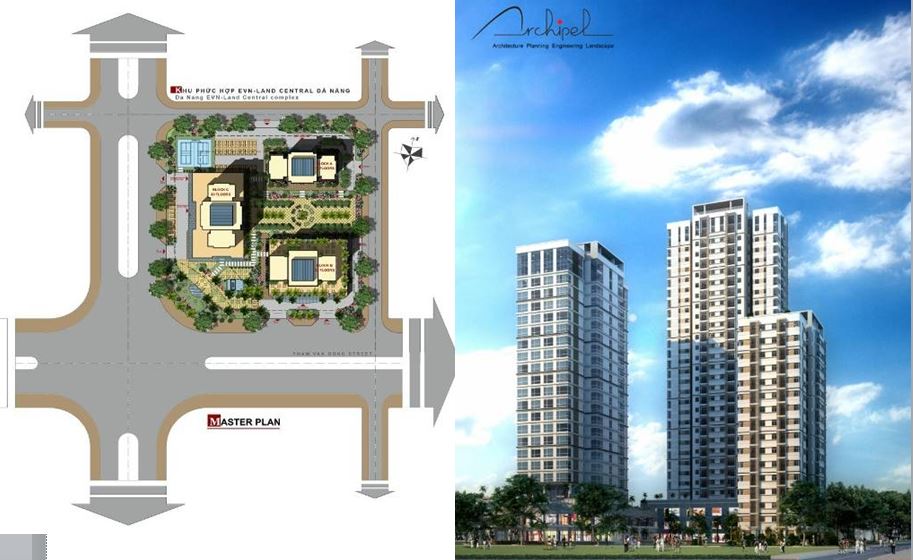 Overview of Harmony Tower Danang project
Project name: Harmony Tower
Investor: Central Power Real Estate Joint Stock Company
Harmony Tower was designed by French designer Archipel
Location: Pham Van Dong Street, Son Tra District, Da Nang City
Project scale: complex area including hotels, luxury apartments and trade centers
Harmony Tower apartment area 16 floors and 1 basement level
High-class hotel with 22 floors and 2 basements
Trade center, high-class apartments with 30 floors and 2 basements
Total land area: 13,666m2
Construction area: 4,076
Construction density: 29.8%
Garden area, internal traffic: 9,590m2
East: adjacent to Hoang Bich Son street, 7.5m
West: adjacent to Le Minh Trung street, 45m
South: adjacent to Pham Van Dong street 56m
North: Bordered by Morrison Road 7.5m
Location Harmony Tower Da Nang
Harmony Tower Apartment is located on Pham Van Dong Street, about 1 km from the Han River; sea ​​about 0.5 km. This is considered an ideal location to live in the fresh environment of the sea and not far from the city center, convenient for travel. Residents are only about 10 minutes to go to administrative centers, hospitals and schools … 3 minutes to the people's market.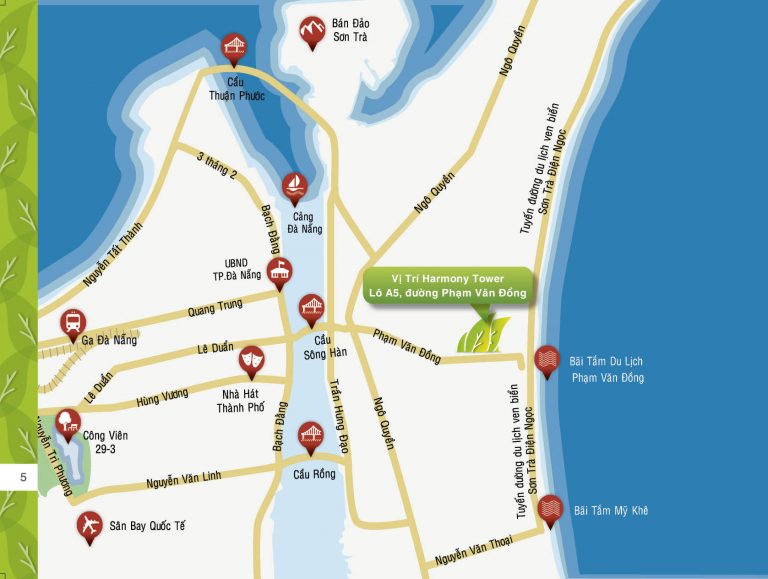 UTILITIES
Coming to Harmony, a peaceful seafront apartment complex and the bustling Han River, customers will find not only basic welfare facilities but also other ideal conditions:
Shopping center, shopping center is located right inside Harmony Tower.
Gym, Spa, steam room, restaurant, cafe, cinema system.
Smart fire alarm system to each apartment and on-site fire fighting system.
Security is guaranteed 24/24 hours.
Modern waste collection system on every floor
UTILITIES APARTMENT
Architecture 2 fronts, diverse area
Fresh environment with the beach is only 3 minutes to have the best health
Shopping mall
Attractions and sightseeing places within 20 km
Prime location, located on the center of the city.
All apartments have beautiful and airy views overlooking the beach, Han river, Son Tra mountain, green park, commercial center ….
Designing each apartment is quite separate, each apartment has a drying yard with a ventilation system, guaranteed smell
Effective water supply and drainage system
Smart fire alarm system to each apartment and on-site fire fighting system
Modern garbage collection system on each floor
Backup generator with large capacity ensures power supply for the entire apartment when required.
DESIGN
Harmony Tower is designed by French designer Archipel. Understanding the psychology of Asians, the architects have expressed these things creatively in interior architecture and arrangement of rooms according to feng shui. Each apartment has at least 2 ventilation facades, combining lighting corridors and natural ventilation.
The apartment brings a feeling of overwhelming in the nature of sunshine, wind, sea, peaceful living space.
FLOOR PLAN