THE PRICES FROM $4.300/SQM INCLUDING BASIC FURNISHING.
Apartment (45m2 – 118 m2) Price from $200.000 – $780.000
OVERVIEW
Developer: PAVNC RISEMOUNT Company with the main shareholder is Vicoland
Project location: Lot A2 – Nhu Nguyet Road (extended Bach Dang), Hai Chau District, Da Nang City.
Main contractor: Hoa Binh Construction Group Joint Stock Company.
Project developer: Raito Seikei (Wright Architectural) (Japan), Darkhorse (Australia), interior design company (Australia), ASPT architecture company (Vietnam)
Total area of ​​land: 11.000m2
Number of basements: 2 basements
LOCATION
Part of the twin towers of the commercial center – 5-star luxury apartment Movenpick Hotels & Residences – Risemount Apartment Da Nang. The project is located at the extended Bach Dang Street, the center of Hai Chau District, Da Nang City. The prime location in the heart of the economic, cultural and tourist growth of the entire Central region gives Risemount Apartment Da Nang luxury apartments a rare commercial advantage.
East: border with Nhu Nguyet street.
The West borders Xuan Dieu street.
The South borders Do Xuan Cat street.
Why is the location of Risemount Apartment Da Nang called the HUB position?
Hub is a concept in real estate and has been familiar to investors around the world. Hub location refers to properties with good location, convenient transportation, centralized traffic, or in the city center.
The scarcity and limitations of the land fund, the project is located at the hub position has made the real estate in this position always sought, sought and desired by investors. Because forming a hub / hub location takes decades of formation and development.
Risemount Apartment Da Nang – With a special Hub location on the banks of the romantic Han River, with views of Son Tra Peak, East Sea and Danang Bay, Risemount Apartment Da Nang is a special Hub location in any area. Estate when converging both commercial and resort values ​​in the same work
DESIGN
Zoom in on the romantic Han River, the majestic Son Tra summit, beautiful Danang Bay and the magnificent East Sea. The project is located on the convergence of earth, bringing prosperous flow and fortune for the owner of the apartment.
With the philosophy of promoting emotions and harmony with nature, the Risemount Apartment Da Nang hotel complex brings the most private luxury experience. Designed according to the sustainable green standard of Raito Seikei (Wright Architectural) (Japan), the tower saves maximum fuel while increasing the glass area to erase the boundary between artificial architecture and landscape nature.
The layout rules are carefully calculated to ensure the apartment has a clear view of the outside and the optimal application space inside. The interior of the apartment is a contemporary style by interior design company Darkhorse (Australia) inspired by the natural flow combining harmoniously neutral shades and cool highlights such as the sea breeze
Wright has incorporated the values ​​of Japanese and Vietnamese traditional houses into the design of Risemount Apartment Da Nang. Risemount Apartment Da Nang luxury apartments are reasonably divided, especially the corridor is carefully designed with subtle setbacks at the entrance, making the corridor no longer monotonous.
UTILITIES & SERVICES
Sakura Park: named after the "national flower" of Japan, Sakura Park is present in the center and behind the two towers Risemount Apartment Da Nang & Movenpick Condotel, highlighting the harmony between modern architecture and landscape. nature. With an area of ​​more than 7000m2, the rows of lush green trees and pink cherry blossoms bring vitality and warm beauty to the architectural complex. Sakura Park is the most complete point showing the unique Vietnamese-Japanese cultural convergence at Risemount Apartment Da Nang.
Danang Fireworks Square: Located in a prime location right on Nhu Nguyet Street overlooking Da Nang Han River Port, Risemount Apartment Da Nang is an ideal place to watch the "night pride" of the ceremony. Da Nang Fireworks Festival is completely collected in the perspective of visitors.
Commercial center: with high-class shops and supermarkets, giving Risemount Apartment Da Nang residents a modern and high-class shopping space
Outdoor swimming pool: The 556m2 pool area of ​​Risemount Apartment Da Nang with beautiful views to the Han River, using international standard materials with anti-slip bricks to minimize the risk of falling.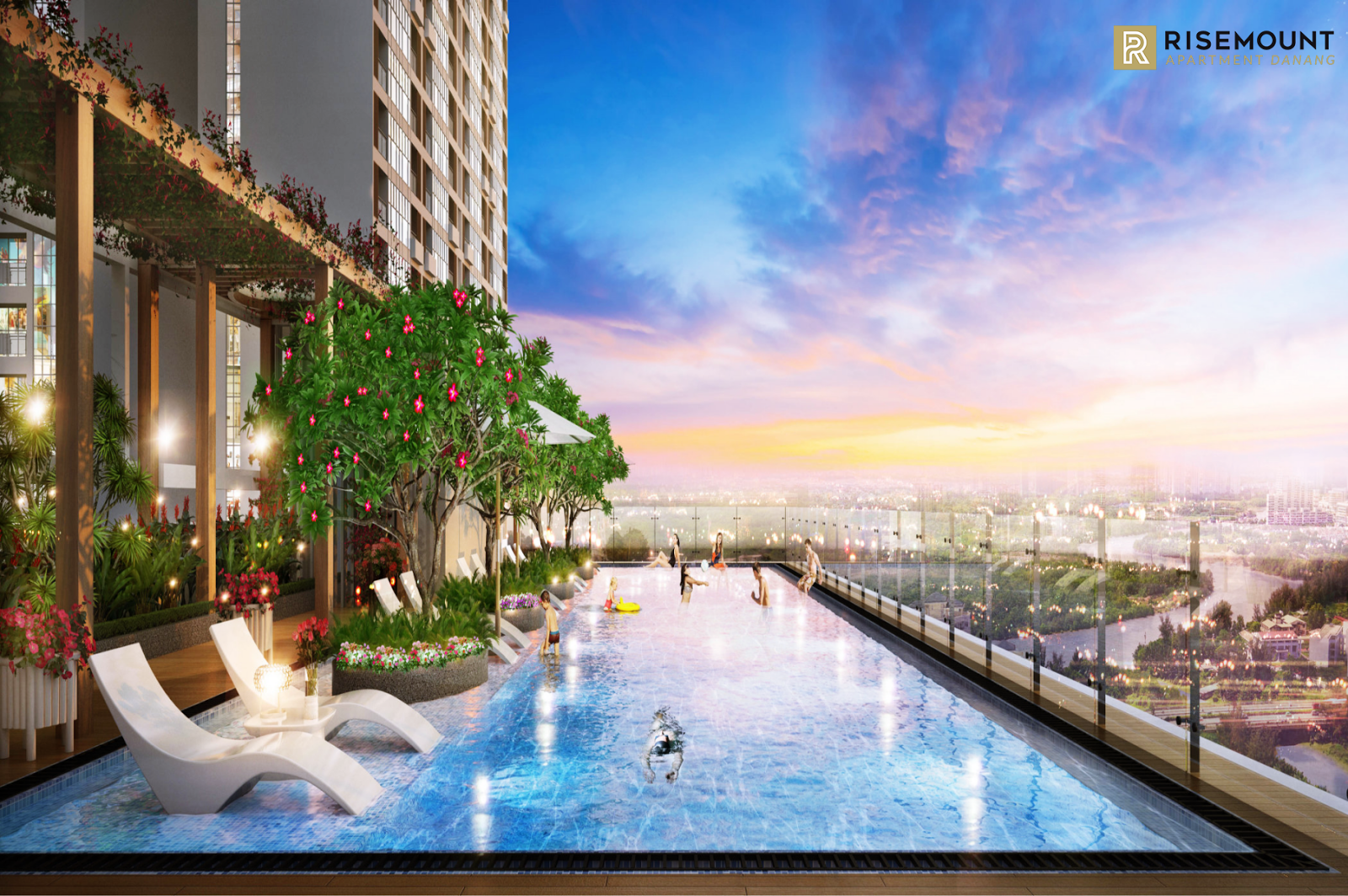 Vico Japan School: The kindergarten serves residents of Risemount Apartment Da Nang, emphasizing education, safety and development environment, equipped with material facilities Modern teaching, wide space classroom and strict security system.
High-class restaurants: Risemount Apartment Da Nang's high-class restaurant system is uniquely decorated with bright lighting to create a warm, modern, luxurious culinary space with countless delicious and attractive dishes. .
Sky bar & lounge: Sky bar & lounge is a venue with modern and youthful space with a lounge bar and serves food, offering customers a relaxing evening and possible meeting place with friend. Located on the rooftop of Risemount Apartment Danang, where you can observe the beautiful skyline of the city, Sky bar & louge has an area of ​​1,000m2.
Gym & Spa Center: The gym is equipped with modern international standard machines, along with a spa area with sauna, massage and beauty services.
Smart parking: intelligent parking system in 2 basements along with automatic parking at the 1st and 2nd floors of the building with a total area of ​​nearly 6,000m2, meeting the needs of parking of all Risemount Apartment Danang residents.
Services of 5-star hotel Movenpick: In addition to the above services, residents of Risemount Apartment Da Nang also enjoy all 5-star utilities from the hotel managed by Movenpick, including: Meeting Center Conference, Restaurant, Coffee lounge, Bar, Spa ..
DEVELOPMENT PARTNERS
Risemount Apartment Da Nang design contractor: ASPT Joint Venture (Vietnam) – Raito Sekkei (Wright Architecture) (Japan)
ASPT is a structural design unit for the entire 2 towers of the project. After 6 years of construction and development, ASPT has been recognized as an intensive design unit for high-rise structures using prestressed concrete technology. Up to now, the company has successfully designed more than 100 high-rise buildings. Some typical projects are: Hilton Danang Hotel, Central Coast Danang, Holiday Beach Danang …
Raito Sekkei is the architectural design unit for the project. The company was established in 1981, has been involved in architectural design consultancy for many large projects requiring high quality construction and design technologies in Japan.
Interior design unit: Darkhorse Architecture (Australia)
Darkhorse is a new brand in the market, but after a short time of operation, this company has been trusted by many big investors such as Sungroup, Him Lam, Sovico … to entrust a series of high-end resort-housing projects. large scale such as Premier Village Phu Quoc, Premier Residences, Ariyana Condotel (Da Nang), Saigon Luxury Apartment (Ho Chi Minh City) …
Founder – Andrew Andrew Frost, one of the world's leading architects, has designed many famous works such as works for the Sydney Olympics (2000) – Athens (2004) – Beijing (2008) as well as Middle-class resort works, Europe, USA …
Construction unit: General contractor Hoa Binh (Vietnam)
Hoa Binh is one of the enterprises in the Top 5 largest general contractors in Vietnam. Hoa Binh has marked its role as a General Contractor by large-scale and high-tech projects such as 5-star Le Meridien Hotel, Saigon Center Complex, Tan An International Airport Expansion Terminal. Son Nhat, Cocobay Da Nang tourism and entertainment complex
Operational management unit
Movenpick Hotel & Resort Tower is managed by Movenpick (Switzerland) Movenpick Hotel & Resort is one of the oldest and most famous hotel brands in Europe as well as in the world. So far, Movenpick manages 83 hotels & resorts in major cities around the world.
The apartment tower is managed by Risemount (Vietnam), Risemount Hotel & Resort is an international-standard real estate management brand created and built by Vietnamese people to retain value for Vietnamese and affirm. position of Vietnam tourism in the international arena. The current Risemount chain: Risemount Premier Resort Da Nang and Risemount Apartment Da Nang, Risemount Luxury Beach Lang Co (Thua Thien-Hue), Risemount Hotel Quang Binh and Risemount Thuan Tinh Hoi An …
FLOOR PLAN
THE PRODUCTS ARE ON SALE
Resell price from $4.330 per m2